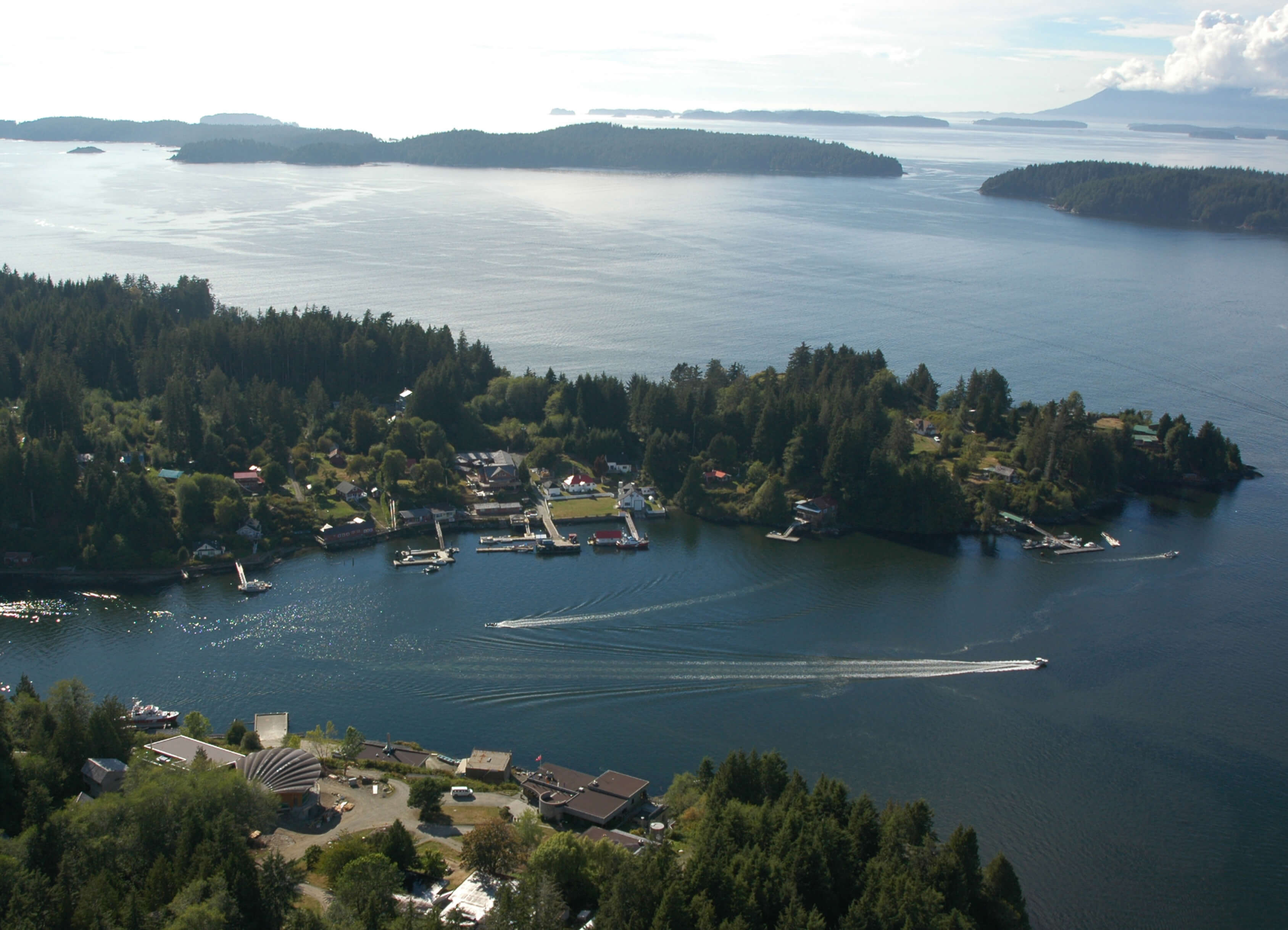 An Aerial View of Bamfield
Getting to Bamfield is a bit more complicated than hopping off a plane in Vancouver and taking a ferry ride to Vancouver Island. It requires a bit more driving, including going down a well maintained public/private logging road, or boarding a passenger ferry - from Port Alberni. But once you get here you are rewarded with small town charm and natural beauty.
Ferries to Vancouver Island
From Washington, USA: Washington State Ferry service from Anacortes to Sidney (Victoria). Crossing time is 3 hours. For schedule information visit www.wsdot.wa.gov/ferries/schedules.
OR: Black Ball Transport (M/V Coho) ferry service from Port Angeles to Victoria. Schedule information on the Coho Ferry website
From Vancouver to Victoria: BC Ferry service from Tsawwassen to Swartz Bay. Crossing time is 1 hour and 35 minutes.
From Vancouver to Nanaimo: BC Ferry service from Horseshoe Bay (West Vancouver) to Departure Bay. Crossing time is 1 hour and 35 minutes. OR - BC Ferry service from Tsawwassen to Duke Point. Crossing time is 2 hours.
For BC Ferry schedule information, check the BC Ferries Website.
From Port Alberni to Bamfield: The M/V Lady Rose provides ferry and freight service to Bamfield three times weekly on Tuesday, Thursday and Saturday. Additional sailings during the summer months. Passenger service only.
Driving to Bamfield
For current Bamfield road conditions, visit the Facebook page of Western Forest Products.
From Victoria: There are two options for getting to Bamfield.
Via Duncan: Travel north on the #1 Island Highway to Duncan (1 hour). Just north of Duncan turn left on Hwy. 18, travelling west to Lake Cowichan. Passing through Lake Cowichan, you will enter a network of gravel logging roads. Follow the signs for Bamfield. The logging route approximately 120kms. Total travel time is ~ 4 hours.
Via Port Alberni: Travel north on the #1 Island Highway to Nanaimo. Continue north through Nanaimo, turning right at the Hwy. 4 exit for Port Alberni/Bamfield. Once you arrive in Port Alberni, follow the signs for Bamfield and the Pacific Rim National Park Reserve. You will enter a gravel logging road that is approximately 76 kms. Follow the signs to Bamfield. Total travel time is ~ 4.5 hours.
From Nanaimo: From Departure Bay, turn right on the #1 Island Highway travelling north. Follow the directions as above to Port Alberni. Total travel time is ~ 3 hours.
Bamfield by Air
From Vancouver, Nanaimo, or Port Alberni: Pacific Seaplanes runs scheduled flights to Bamfield. Check their website for schedule and contact info: PacificSeaplanes.net
IMPORTANT TIPS:
Regardless of your start point, you will eventually be driving on a semi-public, logging road. The road is well maintained and well travelled, however, it is important for you to know the following:
The road is narrow and winding which reduces visibility. It is recommended that you drive with your headlights on and reduce speeds accordingly. Pull over whenever possible to let others pass you.
You will likely encounter logging trucks on the road as current logging activity is 7 days per week. They have the right of way, so please be considerate and yield to them. The truck drivers will generally pull over to let you pass once they are in an area where it is safe to do so.
There are no rest stops or gas stations en route so ensure that your gas tank is filled before you embark on the logging road. It is always a good idea to carry some bottled water and snacks with you.
Ensure that your fluids are topped up and that the spare tire is in good working order.